MANAGING DIRECTOR APPLAUDS AWARDEES

BOST ended the year 2020 on a high despite the massive impact of the COVID-19 pandemic on staff and operations of the company. In the light of the positive results, management recognized the contribution of staff for the year by organizing special awards for outstanding staff.
To mark the event, citations and certificates were presented to staff at the head office on Tuesday 19th January, 2020. Selected awardees of the depots were earlier presented their certificates and citations during the end of year get-togethers which were organized in the month of December 2020 as part of the Christmas celebrations. An undisclosed cash package is to be paid each awardee as part of their salaries for the month of February 2021.
Presented below is a full list of the awardees:
| | |
| --- | --- |
| AWARDEE | DEPARTMENT/DEPOT |
| 1. Ekua Appiah Menka | Corporate Planning |
| 2. Ronald Alaa Apaliboka | Information Technology Unit |
| 3. Edmund Agyei Dumfeh | Internal Audit |
| 4. John Peter Addo Nyarko | Corporate Communication. |
| 5. Emmanuel Obuobi | Terminal and Transmission |
| 6. Regina Darkwah | Procurement and Supply Chain |
| 7. Amos Atta Agyemang | Fuel Trading |
| 8. Precious Atakora Bonsra | Legal |
| 9. George Opoku Banahene | H.R and Admin. |
| 10. Kwaku Aboagye | Asset and Infrastructure |
| 11. Asbel Nana Aboagye | Finance |
| 12. Samuel Mampaya | Field Operations |
| 13. Eric Kuampa | Savelugu Booster Station |
| 14. Francis Amoku- Mensah | Bolgatanga Depot |
| 15. Dominic Godfred Nyame | Akosombo Depot |
| 16. Joseph Yeboah | Kumasi Depot |
| 17. Ken Tenkorang | Accra Plains Depot |
| 18. Amidu Yakubu | Buipe Depot |
The Managing Director, Mr. Edwin Alfred Provencal in his opening address congratulated staff for a great job done in 2020 despite the huge COVID-19 challenge. He further added that though the company projected for an end of year loss of GHS80 million, it rather realized a profit of GHS30 million before any adjustment for forex losses on existing loans.
The MD said "yes we have made profit on management side and stewardship for the year is good, but because of the sins of our forefathers, all that effort will be wiped out eventually. The good thing is that, my able Deputy Managing Director (DMD), Moses Assem here is working on a project to see if we can recapitalize the company with the government to see if they can convert our debts to equity. Once that is done, it will clean our books and then we will be starting from a very positive point and the rest will follow".
The MD also made it clear that, the end of year awards has come to stay and that, subsequent ones will be done based on performance matrix. These special awards are expected to motivate staff to put in their best.
KNOW YOUR AWARDEES
Ekua Appiah Menka
Department: Corporate Planning
Qualification: Civil Engineering with a Masters in Energy and Environment.
She joined BOST in 2007 and a proud alumnus of Ghana International School.
In her words after the award was presented to her, she had the following words to share: "I am sincerely grateful and super excited because, it's always encouraging to be rewarded for your efforts"
'I love my work in the Corporate Planning Department as each day brings forth new challenges and learning opportunities'.

Ekua Appiah-Menka (Corporate Planning) Employee of the Year 2020
Edmund Agyei Dumfeh
Department: Internal Audit
Profession: Banking and Finance with Masters in Accounting and Finance.
Mr. Dumfeh joined BOST as a national service person in 2010 and got employed in 2013. He is a proud POJOBA (Pope Johns Senior High school) alumnus.
"receiving the award makes me feel good about the work I'm doing and therefore feel very encouraged and motivated", he said.
Edmund Agyei Dumfeh (Internal Audit) Employee of the Year 2020
Ronald Ala Apaliboka
Department: Information Technology
Qualification: Information Technology with MCSA Certificate in (Microsoft Certified Systems Administrator) and CompTIA.
'Roo' as he's affectionately called said he was very happy to receive the award and also thanked God and his team mates for making it possible
Roo joined BOST in December 2015 and is a proud Old Student of West African Senior High School (WASS), in Adenta Accra.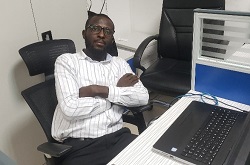 Ronald Alaa Apaliboka (IT Unit)
George Opoku Banahene
Department: Human Resource and Administration.
Qualification: Degree in Business Administration and HR related Professional Courses and Programs.
Banahene joined BOST in 2015.
He is an old student of Presbyterian Senior High School Tema (Tema PRESEC)
George Opoku Banahene (HR & Admin)
Kwaku Aboagye
Department: Asset and Infrastructure.
Qualification: Degree in Petroleum Engineering and a Master of Science in Petroleum.
In an interview after receiving the award, he said, "I feel blessed and privileged in having to receive this award. I am hoping for more in the future as I put in my best for the company".
Kweku joined BOST in 2016 and is a proud alumnus of Mfantsipim School (MOBA)

Kwaku Aboagye (A&I) Employee of the Year 2020
John Peter Addo Nyarko
Department: Corporate Communication and External Affairs
Qualification: Bachelor of Arts in Industrial Art.
John Peter joined BOST in June 2019. He's proud old student of Okuapemman Senior High School (OKUAS).
These were his words after the awards: "It is a great feeling to get recognition of this magnitude from such a prestigious Company. I dedicate the award to all staff of the Corporate Communication and External Affairs Department - it was a combined effort and everyone at the Department deserves to share in this recognition".

John Peter Addo Nyarko (Corporate Communications) Employee of the Year 2020
Asbel Nana Aboagye
Department: Finance
Qualification: Bachelor's Degree in Accounting with Masters in Accounting and Finance.
"I must say it is quite a humbling experience for my contribution to be noticed among the lot", He said. He emphasized that, my inputs are the outputs of others and I've received the award on behalf of the team - my success is their success".
Asbel joined BOST in 2010. He's an old student of Saint John's Grammar School

Asbel Nana Aboagye (Finance)
Amos Atta-Agyemang
Department: Fuel Trade
Qualification: BA Political Science and MBA in Corporate Governance. He also holds a certificate in Fuel Trading from CITAC Africa and IHRDC in the United Kingdom.
He joined BOST in 2015.
Amos is a proud alumnus of Afua Kobi Senior High School, Kumasi.
In an interview after receiving the award, he said, "it is a joyful experience for me and I dedicate this award to my team because I believe without them I wouldn't have been able to deliver; I also appreciate the support of my General Manager".

Amos Atta Agyemeng (Fuel Trade) Employee of the Year 2020
Emmanuel Obuobi
Department: Terminal & Transmission
Joined BOST in 2008
Qualification: BSc. Chemical Engineering and an MBA in Operations Management all from the Kwame Nkrumah University of Science and Technology, Kumasi.
Oboubi, in an interview after the ceremony said he felt honored and humbled. "I also feel appreciated and energized to do more for the prosperity of BOST".
"The first time my boss broke the good news to me, I was surprised as I didn't expect anything like that because I felt my colleagues equally worked hard".
Emmanuel Obuobi (T&T) Employee of the Year 2020
Precious Atakora Bonsra
Department: Legal & Compliance
Qualification: BL (Ghana School of Law),
BSc. Admin (Legon), LLB (University of London).
She joined BOST in 2018.
Precious said "It felt wonderful to receive such an honor. To have one's hard work recognized and appreciated is amazing and showed me that hard work really pays". She also said she wasn't expecting it and that's why it's special for her.
She believes her wealth of work experience over the years, spanning from insurance to banking and now law, all culminates into enabling her to exercise her duties better.


Precious Atakora Bonsra (Legal) Employee of the Year 2020
JOSEPH YEBOAH
Department: Kumasi Depot
Profession: BSc. Electricals and Electronic Engineering.
He joined BOST in 2011 and an Old Student of New Century Career Training Center (NVTI).
"I was exited on receiving the award, particularly with the Citation which was on point and really goes with the service I offer the Company. I will like to thank Management for recognizing my contributions toward achieving the goals of the Company. We look forward for more of such awards which will go a long way to encourage others to partake to the success story of BOST"

Joseph Yeboah (Kumasi Depot)
AMIDU YAKUBU
Department: Buipe Depot
Profession: Electrical Technician
He joined BOST in 2008 and a proud alumnus of Tamale Polytechnic.
He said,"I'm grateful to God for the strength and wisdom and also to the Company for recognizing my efforts and awarding me. I pledge to work harder in the years ahead to achieve the BOST Dream. This award is dedicated to the entire staff at the Buipe Depot".
As a long serving staff of the depot, his nomination and final award was greeted with smiles across his colleagues.

Amidu Yakubu (Buipe Depot)
SAMUEL MAMPAYA
Department: Field Operations
Qualification: BSc. Mechanical Engineering.
He joined BOST in 2011 and is an Old Student of Wulugu SHS in the North East Region.
In an interview with him, he said,"I am happy for the recognition and also very grateful that am working for BOST''.

Samuel Mampaya (Field Operations) Employee of the Year 2020
DOMINIC GODFRED NYAME
Department: Akosombo Depot
Qualification: Bachelor of Arts.
He is an alumni of St. Augustine College and joined BOST in 2018.
He had this to say"it was unexpected but awesome feeling to be honored for my contribution towards the goal of BOST and I look forward to learning more to give even better".

Dominic Godfref Nyame (Akosombo Depot) Employee of the Year 2020
ERIC KUAMPA
Department: Savelugu Booster Station
Profession: Electrical Technician Pt 3
He joined BOST in 2005 and an Old Student of St. Mary Secondary School.
In an interview, he had these few words to say: "I am overwhelmed and inspired to do more relentlessly"
As the leader of the pipeline and booster station management team, Eric doubles in almost every other activity at the station from administration through to the patrol of the Right-of-Way to ensure the safety of the line for the continued business and progress of BOST as a company.

Eric Kuampa (Savelugu Booster Station) Employee of the Year 2020
KEN TENKORANG
Department: Accra Plains Depot
Qualification: BE (Oil & Gas Engineering)
He joined BOST in 2011 and an Old Student of NAVTCO (Agona Swedru).
"I was not surprised because this is my third award from BOST. Once selection is done on merit then the name is definitely going to be seen"

Ken Tenkorang (APD) Employee of the Year 2020
FRANCIS AMOKU-MENSAH
Department: Bolgatanga Depot
Qualification: BSc. Electrical and Electronic Engineering
He joined BOST in 2008 and an alumni of NVTI Biriwa (Central Region).
In his words, "I am very happy to receive this award because for the 12 years BOST, I have worked hard and have done great things in BOST is like no one sees what I have done. I thank God for this award and I will continue the hard work am doing. Thank you all and I hope to see BOST in the next level."

Francis Amoku-Mensah (Bolgatanga Depot) Employee of the Year 2020
In his concluding remarks at the Head Office Awards event at the AH Hotel, the Managing Director indicated the awards had come to stay and hard work shall surely be rewarded as we move the company from the current state to the World Class Oil Storage and Transportation business it aspires to become.
He congratulated all staff for a successful 2020 and wished all the best for the year 2021 and beyond as we move together into the arena of higher glory.